LANAP & LASER PERIODONTAL THERAPY IN WICHITA KS
We proudly offer Laser Periodontal Therapy and LANAP Surgery!
Laser Assisted New Attachment Procedure (LANAP) – a Technological Periodontal Breakthrough
Laser Assisted New Attachment Procedure (LANAP) is considered to be a highly advantageous technological breakthrough in periodontics.
While commonly known as "LANAP", many professionals refer to it as "Laser Assisted Regeneration" or "LAR", for short. This amazing new laser treatment – which was previously approved by the Federal Drug Administration – is considered to be a milestone in periodontal regeneration.
It also aids in the development and growth of new bone and helps in the process of reattachment with gum tissue.
Not only is this protocol highly researched and backed by numerous conclusive studies that are positive in nature, it is considered to be the optimal alternative to traditional surgical procedures that are designed to treat gum disease and its effects on a patient's oral health.
This periodontal treatment utilizes a specially-designed PerioLase MVP-7 laser that includes various pulse durations to interact with the various tissues and structures within the mouth.
The following outlines a few of the amazing benefits of the Laser Assisted New Attachment Procedure/Laser Assisted Regeneration treatment for gum disease, its effects, and similar periodontal-based complications:
This procedure results in less tooth sensitivity, less inflammation, and less pain than conventional periodontal surgery.
The recovery and healing time is greatly reduced.
There is far less risk for the development of infection with laser treatment than with conventional treatments that treat periodontal disease.
Laser treatment allows for the regeneration of gum tissue; whereas, conventional surgery does not.
A Predictable Solution for a Complicated Periodontal Problem
Numerous conclusive studies have indicated that LANAP/LAR is the most predictable solution to the complications of the periodontal problem, gum disease and its effects. Additionally, laser treatment aids in saving problem dental implants.
Individuals that have gum disease do not just experience oral health problems; they also experience numerous other health complications. Examples include heart problems, the development of certain cancers, the onset of diabetes, and pregnant women may deliver premature babies or babies with an extremely low birth weight.
While considered to be a world-wide epidemic, gum disease was previously only treated utilizing highly-invasive surgery and/or teeth extractions.
Naturally, these treatments have always been considered to be scary among patients. As a matter of fact, most delayed treatment because of the fear of these treatments. Now, there is no need for fear, laser periodontal treatment is here!
The PerioLase MVP-7 and LANAP
The PerioLase MVP-7 is designed to deliver quality patient care at the optimal level of comfort. Its unique level of technology and innovation allows the completion of both hard-tissue applications and soft-tissue applications.
LANAP is a true success for the treatment of periodontitis, peri-implantitis, and the process of encouraging new periodontal-based attachments. This uniquely-designed laser includes 7 various selectable pulse durations that allows for the easiest and most efficient ablation of tissue, as well as hemostasis.
The use of this laser allows a practitioner to perform periodontal tasks without having to use scalpels or place sutures in the month. Chair time is reduced by approximately 50% when utilizing this laser machine.
And this amazing technology has the ability to save teeth, reduce the depth of the pockets in the mouth, and optimizes your oral health – with just one use!
Benefits Associated with the PerioLase MVP-7
Traditional gum surgery results in the use of a blade for cutting and/or the placement of sutures; however, laser gum surgery does not require any of these procedures.
The wavelength in which the laser operates allows it to uniquely distinguish between tissue that is diseased and tissue that is considered to be healthy. Long gone are the days when healthy tissue was harmed, cut, and/or completely removed.
The following outlines the benefits associated with the laser treatment machine versus traditional surgery:
Conventional periodontal surgery requires cutting, medications, and results in downtime in order to heal. Not only that, but, it results in an immense amount of pain. The LANAP treatment is not painful, does not require pain medications, and results in faster healing.
Traditional surgery reduces the gum line in the mouth; however, LANAP gum surgery does not.
The results associated with LANAP are considered to be more predictable than the results of traditional periodontal surgery.
The technology delivered by the PerioLase MVP-7 is like none other currently available in periodontal care. At Implant & Perio Center of Kansas, we specialize in providing our patients with the most advanced treatments and strive to consistently provide the absolute highest quality care.
While it is true that laser treatment is not an ideal choice for many, millions benefit from this treatment. To determine if you are a candidate for this procedure, call to set up a laser consultation today: 316-683-2525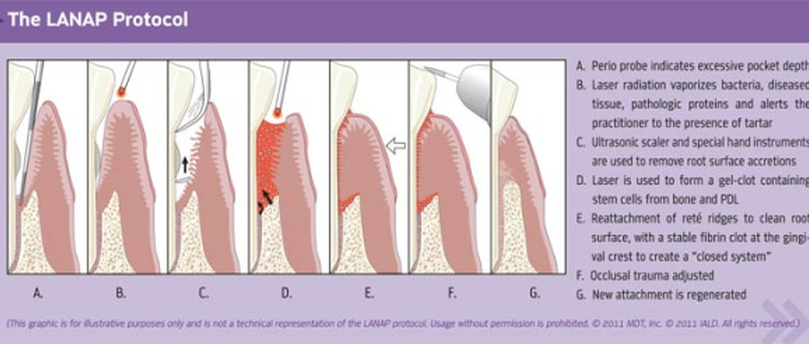 Laser Dentistry – The Basics
Laser dentistry is considered to be a highly versatile form of dentistry. Today, it aids in the completion of numerous dental-based procedures.
While commonly associated with procedures that are cosmetic in nature, it is also considered to be ideal for preventative dentistry procedures.
The following outlines the most common uses for dental laser units:
Many practitioners utilize dental laser units in order to prepare one or more teeth for a filling. As a result, there is no longer a need to incorporate the use of a dental drill or the use of anesthesia.

Lasers are designed with beams that aid in killing bacteria in the mouth. This is very useful prior to surgery.

Laser units have the ability to lengthen the crown of a tooth by reshaping the soft tissue around the tooth.

Many practitioners utilize dental lasers in order to improve speech and feeding.

If a tumor is found in the mouth, dental lasers may remove them quickly and easily.

Lasers are often utilized in conjunction with peroxide bleaching products in order to enhance the coloring of the teeth, resulting in a whiter and brighter smile.

If a biopsy is needed, lasers may remove suspicious tissue areas that need to be tested.
Performing Laser Procedures
In the dental field, there are many varieties of laser units that are utilized, each for a specific condition and/or treatment.
Each laser unit utilizes its own wavelength, in terms of light. In addition to varying degrees of light, there are different types of units.
The most common of these are the ones that include lasers of a carbon dioxide nature and those that use a diode light.
In most instances, these are ideal for addressing complications with the soft tissue of the mouth.
By retrieving results from images of the mouth and reviewing information pulled from a thorough examination, your periodontist will be able to determine which type of laser is best suited for your needs.
While a dental laser unit is being utilized, you will notice a very bright light; however, the eyes will be protected with specially-designed glasses that protect against that bright light.
Once the procedure starts, that light will be directed at the region of the mouth where the practitioner will be working.
You will find that laser treatment is far less frightening, results in fewer bouts of anxiety, and is much quicker than traditional dentistry methods.
You also will thoroughly enjoy the fact that you'll spend less time in the chair, are able to heal more quickly, and are able to achieve your very best, in terms of your smile and your oral health.
Meet Dr. Sams
Skill and compassion go hand in hand when providing exceptional patient care. As a dental professional, I stay up to date on the latest advancements in dentistry in order to provide the most current treatment options for my patients.
As a doctor, I recognize that my patients are unique individuals who have placed a great deal of trust in me and my team. That is just one reason why I value each and every patient relationship.
I appreciate the time you've taken to visit this site and find out more about this dental practice, my team, and the many services we can provide to help you achieve optimum oral health.
Don't hesitate to call me for any questions that you may have! Schedule an appointment with us today!

QUESTIONS?
If you have questions about dental implants or would like to schedule a consultation, please contact us at our dental practice today!
Here's a Map To Our Location
Request Your Appointment Today!